Part 1 Features:
Lefu Intelligent System; Voice control optional
Brushless DC; Platform one-click rapier
Flip the air expansion shaft, automatically inflate and deflate
Automatic locking、one key to unlock, more convenient for loading and unloading materials


Longitudinal cutting, automatic edge inspection and correction; Double foot switch
Front and rear double speed control knob; Voice control start and stop lift speed
Cold lamination, hot lamination, and linerless cold lamination
Paperless automatic stop, anti-pinch hand; Speeds up to 50m/min
Part 2 One-click inflation and deflation air shaft:
Ordinary material bar:The thickness of the paper tube will affect the change of the friction force of the material rod. If the friction force is too large, the paper tube cannot pass through; if the friction force is too small, the paper tube will slip; it will easily affect the lamination effect.
Traditional air shaft:It takes a long time to manually inflate and deflate; wide materials need to be adjusted in position, and the operation is cumbersome if an inflatable hole is left.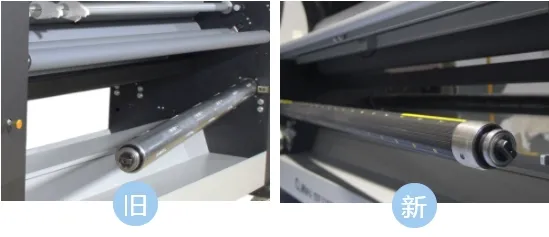 One-click inflation and deflation of the air shaft simplifies the entire lamination process, and fundamentally solves the problems of difficulty in loading and unloading materials, slippage of the paper tube, etc., so as to save time, cost and manpower.
As time goes by and the times are changing, Lefu will continue to work hard, always pay attention to the quality of product manufacturing, inject professionalism and humanistic care into products, and provide you with the best lamination and cutting solutions.